Man Defrauded Sanders, Beto Donors With Fake Websites, Prosecutors Say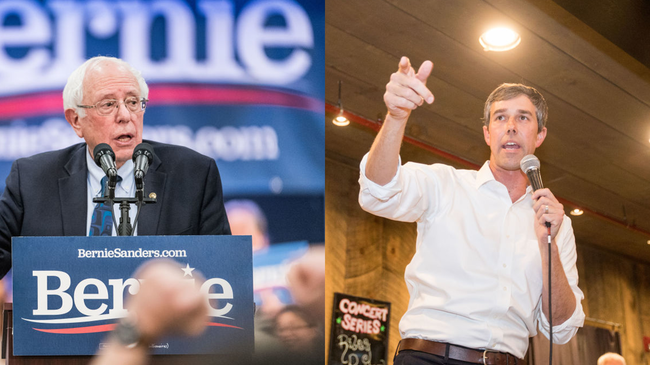 Federal prosecutors say an 80-year-old Blythe, California man has been charged with wire fraud and aggravated identity theft after he allegedly set up fake political action committees and pocketed more than $250,000 in donations.
The Los Angeles Times reports that John Pierre Dupont was charged by authorities after he allegedly set up more than a dozen PACs that claimed to be raising money for campaigns like Sen. Bernie Sanders' presidential bid and former Texas Rep. Beto O'Rourke's campaign for U.S. Senate. Some people sent Dupont money using a credit card, while others mailed checks. The man managed to raise more than $140,000 from contributions from a website that purported to support Sanders' run for president. He also collected money from people who thought they were supporting Andrew Gillum's campaign for governor in Florida.
Dupont kept the money, reportedly using the cash to pay his rent, settle parking and other traffic tickets, and even purchase a $25,300 Mercedes-Benz sedan, according to a complaint that was unsealed by the U.S. attorney's office for the Southern District of New York. None of the money raised by Dupont was spent on political contributions during the relevant time period and he did not report the donations as required in filings with the Federal Election Commission.
"Thousands of donors believed their hard-earned money was being used to support the causes described in solicitations, but in reality, the scam PACs had no operations beyond the fundraising itself, and no funds were used to support candidates," U.S. Atty. Geoffrey S. Berman said in a statement. "My Office will continue to ensure that fraudulent fundraising does not pay – indeed, will result in criminal prosecution – by rooting out scam PACs wherever we find them."
Dupont appeared in federal court in Arizona, and posted $100,000 bail, the newspaper added.
Photos: Getty Images